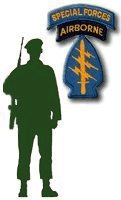 A Boy Among Titans by Rick Schad: In 1982 the Army Special Forces' doors were open to 18 year olds. A Boy Among Titans is the tale of one of these SF Babies. Follow as he stumbles through mishaps during intense training, transitioning from boy to man and learns the true essence of Special Forces.

Excerpts:

We quickly climbed under the poncho. Our heads faced center where a map and several sheets of paper lay. The PL clicked on his red lens flashlight, bringing everyone into view. Sleep deprivation and horrible shaving conditions caused my companions to look filthy and rugged. The notion that we resembled a band of pirates hovering over a treasure map caused me to laugh.
Our instructor yanked the PL's flashlight away from him and thumped me square on the head. I yelped as he demanded, "What's so funny, ass-wipe?"
The others broke into laughter as I rubbed my head.
"Well?"
"Nothing, Sergeant."

Readers' Comments:
I just finished your new book, "A Boy Among Titans", and wanted to tell you how much I enjoyed it. I thought it to be superb. The memories you shared were all interesting and not even once did my attention to your storyline wane. The pace was pleasantly brisque, images were concise and clear, making it easy to follow and to imagine oneself there with you as the adventures unfolded. You managed to weave humor, challenge, fear, confusion, conviction, and ultimately triumph of both individual and team throughout the pages. The importance of endurance, the power of will, preparation, execution, mentoring, and encouragement were also served up like a feast for anyone interested in noting the character traits of a man's man.

---

The book is simply outstanding reading for anyone with an interest in things military, adventure, or the essence of character building. I give this 5 out of 5 stars and would recommend it wholeheartedly. I am excited to be able to share your work with friends.
David L

---

I finished reading A Boy Among Titans by Rick Schad this morning and it was an extremely good read. It brought to mind many of my own memories of Jump School and SFQC. Rick's honesty and openness about his inner feelings and fears during those days of yester-year were refreshing and brought him and by default "us" into the realm of "real life human beings" for the reader and not some super-human, self impressed demi-God that the average citizen can't relate to and doesn't believe exists. His book not only makes us believable both as human beings and soldiers, it creates in the readers mind the impression that we are definitely a "cut above" the average citizen in that we know we can stand more discomfort and pain, endure virtually any hardship, thrive on adversity and still drive on with the mission and still get it done regardless of the seeming impossibility. Hmmm... maybe he points out that we have actually become super human? More, I think, than even we realize. An excellent read and worthy addition to your Special Forces List library.
John D

---

I was surprised how well written it is. I've already told Ricky not to take that the wrong way. The scene wherein they have to kill their rabbits out at McCall is funny and a little touching. The chapter about him being out in his survival hooch is good too. Ricky, I don't know how you remembered all the details you did. The chapter about Land Nav made me chuckle nervously and groan a couple times. But if I recall you call them "clackers" in that chapter, those things attached to the posts with which we punched our cards. We called them "punches".
Jeff F

---

This was a great read. It draws the reader through a range of emotions: uncertainty, fear, sorrow, humility, determination, and finally, well-deserved pride of accomplishment. His experiences serve as a valuable lesson on life, i.e., that self-motivation, a little help by people you can trust, and sometimes a needed kick in the rear, will get you through most things in this life.
Gerald R

---

Maybe I'm not normal, I like military. I loved the book. I just handed the book to mom to read. Lots of books start out and you have to force yourself to continue to get to a part (or parts) that makes you want to keep reading. That did not occur. From the first page to the last, my attention was held and I didn't want to put the book down. It held my interest to the point you didn't want to skip ahead (and miss any details). My opinion, it would make a good movie. And if you do, I want to be invited to the opening. You said you wanted an opinion from a female, when is the next book going to be published. :-)
Charles L

---

If you don't have a copy of Rick's book, "A Boy Among Titans", you need to get one. It is well written and a very good read. It is one that every Special Forces List Member should have in his library. I thoroughly enjoyed it
Mike R

Rick Schad is also known throughout the Special Forces community by his adopted name: Rick Miller. He legally changed his name back to Schad in 1994.

Schad graduated from Special Forces training in 1982. He served in the 5th Special Forces Group as a communications sergeant on ODA-553 and ODA-551. While serving in the 5th Group, Rick traveled to Sicily and Egypt. He transferred to the 7th Special Forces Group in 1986, first serving as a platoon sergeant then as the communications sergeant on ODA-786. His assignments with the 7th Group took him to Panama, Bolivia, Venezuela, and Belize. Rick became a Special Forces Instructor in 1989 and returned to the 7th Group in 1992 to assume the operations sergeant slot on ODA-743. In October 1993, Rick transferred to an ROTC assignment at Clarkson University in Potsdam, NY. He left the Army in 1996 holding the rank of Sergeant First Class.

---
Return to top
Return to Old Mountain Press Books In Print